Townsville Attractions
Explore Things to Do Around Townsville
Hotel Grand Chancellor Townsville is the ideal choice for those seeking to explore the local attractions and immerse themselves in the vibrant culture of the city. Conveniently located in the heart of Townsville, this hotel offers easy access to a plethora of top-rated destinations.
Hotel Grand Chancellor Townsville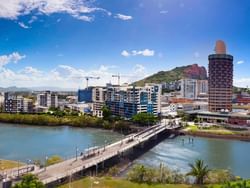 Experience the best of Townsville at our hotel, where friendly service and a relaxing atmosphere await you, providing the perfect base for your North Queensland adventures.
Just a short stroll away, visitors can marvel at the stunning marine life of the Reef HQ Aquarium, the world's largest living coral reef aquarium. For history enthusiasts, the iconic Castle Hill provides breathtaking panoramic views of the city and its surroundings, while also being a significant historical site. Additionally, the hotel's proximity to The Strand, a picturesque waterfront promenade, ensures a leisurely and scenic walk along the Coral Sea, complemented by various cafes, restaurants, and entertainment options.
Whether guests are interested in exploring nature, history, or local culture, Hotel Grand Chancellor Townsville serves as the perfect gateway to an unforgettable experience of the region's top attractions.