Local Attractions
Tourist Places and Things to Do in Launceston
Nestled in the heart of Tasmania, Launceston casts a captivating spell on travellers with its blend of historic charm, artistic flair, and natural wonders. This vibrant city, surrounded by rolling hills and the Tamar River, offers a plethora of attractions and activities that showcase the essence of Tasmania's beauty and culture.
Hotel Grand Chancellor Launceston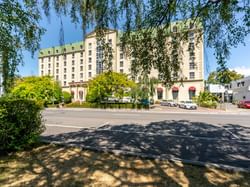 Discover the enchanting city of Launceston from our hotel, where you'll be treated to a blend of comfort and convenience, ensuring a memorable stay in Tasmania.
Start your journey by wandering through the historic streets adorned with Georgian architecture and charming cafés. The renowned Cataract Gorge Reserve stands as an urban oasis, inviting you to hike its trails, ride the chairlift, and revel in its natural beauty. As you meander along the riverbanks, keep an eye out for the unique wildlife that calls this sanctuary home.
Launceston's artistic spirit shines through in its galleries and museums. QVMAG (Queen Victoria Museum and Art Gallery) offers a captivating blend of history, science, and art, while the annual Junction Arts Festival transforms the city into a hub of creative energy. Food enthusiasts are in for a treat with Festivale, a culinary celebration showcasing Tasmania's finest flavours.
Venturing beyond the city, the Tamar Valley wine region beckons, offering cellar doors where you can savour world-class wines amidst breathtaking landscapes. The iconic Bridestowe Lavender Estate blankets the countryside in hues of purple, inviting you to immerse yourself in its fragrant allure.
For those seeking adventure, the nearby Cataract Gorge Reserve promises exhilarating hiking trails, panoramic viewpoints, and the adrenaline rush of the world's longest single-span chairlift. Whether it's exploring the lively Saturday Harvest Market, exploring the historic village of Evandale, or simply soaking in the relaxed pace of life, Launceston captures the essence of Tasmania's alluring diversity.