Local Attractions
What to Visit in Adelaide
Welcome to Adelaide! Voted Australia's most liveable city, Adelaide is also one of its easiest to reach, with direct flights from most major Asian airports and all Australian capital cities. Once you arrive, the city is just as easy to get to know. Wide streets, welcoming town squares and leafy parklands beckon you to explore.
Travelling with Family
Enjoy Adelaide's sunny weather, with a range of activities suited for the whole family. Boasting extensive parklands and beautiful beaches - adventure is just around the corner.
Wine Regions
Enjoy South Australia's award winning wine regions- whether you love a bold red, a fruit forward white or anything in between, we've got the goods!
South Australia is of the 11 Great Wine Capitals of the World, alongside Bordeaux in France, Napa Valley in the US and Bilbao Rioja in Spain. Pour yourself a glass and check out our guide to South Australia's top wine regions.
The Chancellor On Currie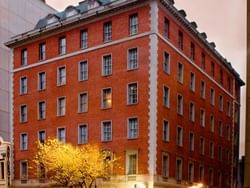 Enjoy a home away from home at our Adelaide hotel, offering a cosy retreat in the heart of the city, with all the conveniences to make your stay truly special.
See how many places you can visit on the map during your next stay with us! 
No matter what brings you to town, let The Chancellor on Currie be your gateway to everything South Australia has to offer. We cannot wait to share it with you!