Local Attractions
Beautiful Auckland New Zealand's Tourist Attractions
Experience the City of Sails and explore Auckland. From inner city dining to beaches and nature walks, Auckland has something for everyone.
The Chancellor on Hobson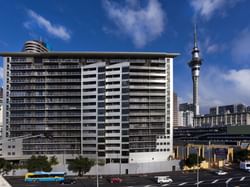 Discover Auckland's treasures from our hotel, where you'll find comfort and convenience combined with a warm hospitality that will make your visit unforgettable.
With amazing green spaces scattered around the city, the nature lovers amongst us will appreciate the beautiful beaches, volcanic sights, and gardens that Auckland boasts. Be sure to take in the stunning city views from the top of the Sky Tower or jump on a ferry and explore the city by water.
Auckland is home to a number of impressive museums and galleries that are perfect for those craving a piece of history, quiet time or looking for rainy day activity. Follow this up with a trip to the well-known Queen Street and Viaduct Harbour to truly capture the hustle and bustle of New Zealand's largest city.
When it comes to attractions and things to do in Auckland City, your options are plentiful! However you choose to explore Auckland, you will be left wanting more.